A Zorro Bibliography
Some people who have wore the mask of Zorro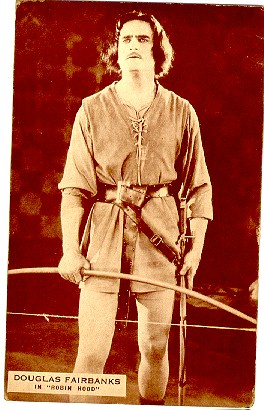 Douglas Fairbanks, Jr., also known as Douglas Elton Ulman was born May 23, 1883. Fairbanks was the first person to play the masked legendary hero of old California. In 1920, he took Johnston McCulley's story the Curse of Capistrano and turned it into a live action move called The Mark of Zorro. Some other noted shows and movies include Mr. Robinson Crusoe, Don Q. Son of Zorro, and Robin Hood. Douglas Fairbanks died December 12, 1939 from a heart attack.
Tyrone Power whose real name is Tyrone Edmund Power Jr. was born May 5, 1914 in Cincinnati, Ohio. Some people say that he was born in 1913. Tyrone Power was the first actor to add sound to Douglas Fairbanks' movie the Mark of Zorro in 1940. Other shows that Tyrone Power acted in are The Mississippi Gambler, Jesse James, Prince of Foxes, Sun Also Rises, Pony Soldier, I'll Never Forget You, Son of Fury, Rawhide, Captain From Castile, and The Black Rose. Tyrone Powers died November 15, 1958 in Madrid, Spain.
Reed Hadley whose real name is Reed Herring was born June 25, 1911 in Petrolia, Texas. His famous role of Zorro was in the 1939 serial Zorro's Fighting Legion. He was an excellent actor and this is my favorite Zorro serial. Some other great films staring Reed Hadley include St. Valentine's Day Massacre, narrator to Buffalo Bill, The Adventures of Captain Marvel, I Shot Jesse James, The Man From Montreal, and Wild Bill Hickok. Reed Hadley died December 11, 1974 in Los Angeles of a heart attack.
Clayton Moore also known as Jack Moore was born September 14, 1914. Everyone knows him as the Lone Ranger. He also played Zorro in 1949/1959 serial the Ghost of Zorro. Some other shows of Clayton Moore include U-238 and the Witch Doctor, Lone Ranger of course, Masked Riders, The Crimson Ghost, Zorro Fighting Legion (uncredited), and the television show Lassie (1954).
Frank Langella born January 1, 1940. Frank Langella remade Tyrone's Power movie the Mark of Zorro in 1974. This movie followed the same story as Tyrone Power's version but with different actors and actresses. One actress on the show was Yvonne De Carlo who played on the long running show the Munster. Some other shows that Frank Langella did were Lincoln, Master of the Universe (played Skeletor), Dracula, and has played on Star Trek: Deep Space Nine.
Guy Williams, also known as Armando Catalano, was born January 14, 1924 in New York. Guy Williams' most famous role was Zorro. The Walt Disney version that ran from 1957 - 1959 and again in 1960 - 1961 with the hour long shows. He later was the star on the long running Science Fiction show Lost in Space. Some other noted shows and guest appearances are Captain Sinbad, Damon and Pythias, Prince and the Pauper, Bronzo Goes to College, and also played on Bonanza. Guy Williams passed away on May 7, 1989 in Buenos Aires, Argentina of a Brian aneurysm.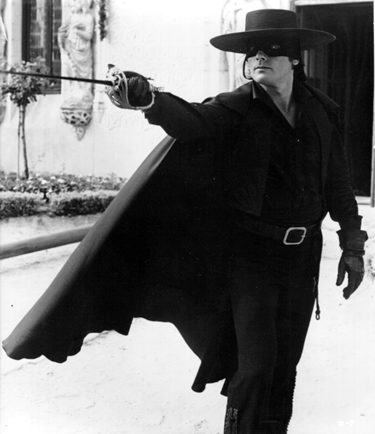 Alain Delon was born November 8, 1935 in Sceaux, France. Alain Delon played Zorro in the 1974 movie Zorro. Alain Delon made one of the great Zorros between Guy Williams and Duncan Regehr. Some other shows that he has starred (most are foreign films) in are The Eclipse, Texas Across the River, The Lost Command, Once a Thief, Armaguedon (1976), Concorde: Airport '79 (1979), Three Men to Destroy, Mr. Klein, Two Against the Law, and currently Une chance sur deux (1998).
Henry Darrow, whose real name is Henry Delgado was born September 15, 1933 in New York. Henry starred in the short running tv series Zorro and Son in the early 1980's. Some other noted appearances in shows are the New Zorro (Family Channel Zorro) as Don Alejandro, General Hospital, the 1981 cartoon The New Adventures of Zorro (Voice of Zorro), and High Chaparral.
Duncan Peter Regehr born October 5, 1952 in Lethbridge, Canada. I first saw Duncan in the short running series called Wizard and Warriors. I enjoyed the show and later saw an advertisement in the TV guide for a new Zorro series. I did not get to watch it at first, but when we moved to town, I saw it on the Family Channel. I have to say that the New Zorro is my favorite version of the Zorro shows. Some other shows that he has appeared on are Timemaster, The Haunting of Lisa, Earth Star Voyager, Monster Squad, V the television series, Star Trek and the current show Fast Track.
Antonio Banderas the latest actor to don the mask of Zorro was born August 10, 1960, in Malaga, Spain. Banderas' real name is Jose Antonio Dominguez Banderas. The movie Mask of Zorro hit the theaters July 17 and it was a great success. "Zorro" has taken in an estimated $47.6 million and is projected to wind up in the $90 million-$100 million domestic range. Antonio starred in the following as well Evita, Desperado, Interview with the Vampire, and Miami Rhapsody.